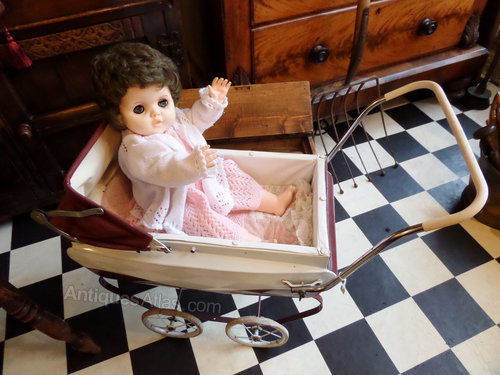 Buying a buggy can be quite a big decision, especially if you are buying new. We tend to buy most things second hand where we can.  Even the majority of the reusable nappies we have are "preloved" (pre-shat-in). Ok, maybe a step too far for some people, but when it comes to buggies, second hand is definitely good.  We have found a lot of second hand buggies to be in pretty amazing condition. I reckon people drive everywhere these days, so buggies don't really get used that much (unless owned by us, and then they end up completely knackered as we don't have a car).
We can't claim to be buggy experts. There are so many different buggies on the market and your needs will be so individual.  Which buggy will be good for you will depend on lots of different factors. These include the kind of space you live in, where and when you might be most likely to use it and what your budget is. You might want one designed for jogging, one for occasional use, one with a big basket or with hidden compartments for shoplifting (nappies are surprisingly expensive). All we can offer is some useful links and some pointers on what you might need to consider when you live in a small space. 
Click here and here for explanations of different types of buggies.
First of all, do you need a buggy at all?

 It might seem like a silly question, but some people carry their children in slings or carriers and ditch the buggy altogether. We used to "wear" our son a lot. He preferred it to being in a

 buggy. Also, I had a fear of taking a b

uggy onto a bus, into a crowded cafe, on the tube etc. It suited us well for the most part, it also took up very little space. Oh, and also it took me at least a year and a half of living in our first floor flat to realise there is a virtually step free way to access the building round the side. Oh yes, I'm sure I've said it before, I am an idiot.
The downside for us was that as our son got bigger and heavier, and as we both had back injuries at various times, it felt more and more impractical, especially if we had lots of other stuff to carry too. We gradually started using the buggy more and the carrier less. We probably stopped using it completely when he was 19 months old.
To find out more about baby wearing, including the many perceived benefits. follow this link. If you are interested in buying a sling or carrier, I would strongly recommend going to your local sling library for advice and an opportunity to try some and borrow for a few weeks at a time.  
Ok, so you've decided you do need a buggy, you need to think about these factors: 
Another thing you might want to consider if stairs are part of the equation, is that bigger wheels will bump up and down them more easily. All terrain buggies are often good for this. The positioning of the brakes will also affect this, for example on our stroller the brake levers are on the back of the wheels and catch on the steps if you try to bump it down. Another thing that can make it harder is if the buggy handles are not at a good height so you end up really stooping on your way down.
If 

you live in a block of flats, with a communal lobby, maybe you can avoid breaking your back by leaving it there. In this case perhaps cost will be more of a consideration, since it might not be wise to leave a £3,000 Silver Cross Aston Martin Edition pram (available here, in case you'd like to buy one, although I suspect you wouldn't be reading this if you had enough money to buy such an item, and if you did, I can't help thinking you probably deserve it to be nicked).
Follow this link for strollers for 50 quid or less and this link for buggies under £150.
If you are planning to store your buggy somewhere other than in your living space, you might want to get a buggy that has a detachable part, such as a carry cot, that you can carry the baby up in (especially useful if they have fallen asleep). 
If you are going to keep your buggy in your living space, your priority might be a buggy that doesn't take up much of this. Strollers are great for this, and they are a lot easier to squeeze onto public transport too. The basic ones have the added bonus of being lightweight and cheap. The downside being that they offer very little space for luggage, and, depending on the model, are not as comfortable, often don't recline much, if at all, and do not offer such good protection from the sun.
You might decide to fold it when not in use. In this case you might want one that folds as small as possible, or one that folds and unfolds easily. This is what we have gone for. Our Baby Jogger City Mini is really easy to fold, it involves picking it up using a handle on the seat and that's pretty much it. Unfolding it just as easy. It means we are happy to fold it up whenever it is not in use. Other good things about it are that it is easy to push, even one handed, and the hood is big enough to be a really effective rain or sun shade. Bad points about it are that the basket isn't massive and there is no option to have the baby facing you unless you buy a separate carrycot.
You could also install a hook for storage. 
Do you want to use the buggy from birth? You need to check that the buggy is suitable. For example, newborns need to be able to lie flat, so most strollers are out. Click here and here for lightweight pushchairs for newborns.
As I said, we are not experts. To get expert advice, perhaps consider joining Which? (you can join for a month for £1).
It would probably be helpful to look at buggies in real life also, rather than just read reviews. Shops are obviously good for this, NCT nearly new sales can be good also, as there is likely to be several different types lined up next to each other that you can play with. 
What about double buggies? I hear you ask (you have a very loud voice). We haven't even gone there yet, so stop shouting at me.
Know any buggies that are particularly good in a small space? Or any that are completely awful? Any other tips? Comment below or take part in our Facebook group forum here.
Related posts:
Space saving highchairs
Bounty